Director Meg Pedlow Smith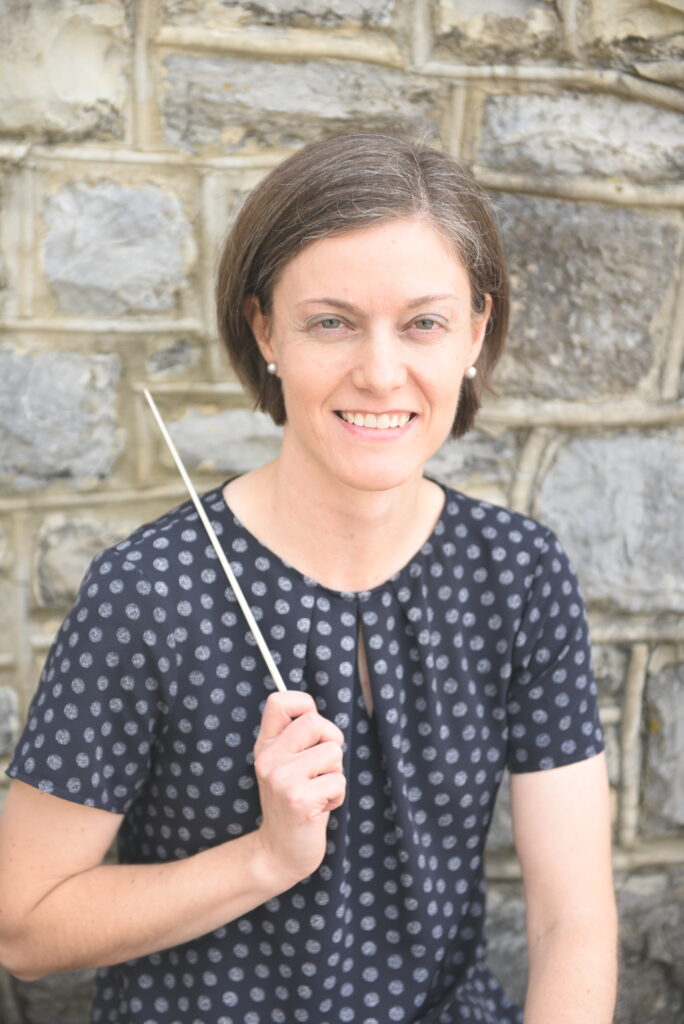 Meg Pedlow Smith began directing the Bellefonte Community Band in the fall of 2018.
She is a graduate of the Pennsylvania State University with degrees in Music Education, Musicology, and Conducting. For eight years prior to returning to Central PA, Meg served as a musician in the United States Navy, performing on clarinet and saxophone at duty stations in Virginia, Rhode Island, and Italy.
She is currently pursuing a Ph.D. in Interdisciplinary Arts at Ohio University.
History
The Bellefonte Community Band was founded by Lawrence Acker in 1983. Beginning with the 1984 holiday season, Mr. Acker led the band for many successful concerts. Upon his retiring, the director's baton was passed to the capable hand of Karen Neff, who led the band from January of 2003 until December of 2007.
During Karen's tenure the BCB commissioned renowned composer Robert Sheldon to write music specifically for the band. He created Bellefonte Overture, a fresh new work that captures the essence of our historic community. In January of 2008, the team of Erick Somodi and Natalie Stanton took the reins.
After a great year, Erick announced that he would be leaving. While sad to see Erick depart, Natalie was thrilled and honored to become the director of the Bellefonte Community Band. For its monumental 25th Anniversary Season, another new work was commissioned by the band. Trumpets of Eternity by Andrew Balent was featured at the band's 25th Anniversary concert on 27th June 2009. Mr. Balent attended the concert and honored the band by conducting the premiere performance of his composition. He also joined the band in the other music, playing baritone saxophone.
Natalie established herself as the driving force of the band in the 21st century. She urged players to perform at the peak of each individual's abilities. She challenged the members and herself to learn new music, and to regard the older material with a fresh perspective. But the elements of fun and enjoyment were never forgotten.
The annual Mid-Penn Band Festival at Knoebel's Amusement Resort in Elysburg, PA became a favorite destination for our musicians. The spirit and drive of the band members enabled the creation of a new group within the BCB, the Jazz Ensemble. Natalie stepped down from the directorship in 2014 in order to spend more time with her family.
During the summer of 2014 the band conducted a search and was excited to welcome Joshua Long as our new director that summer. Under his excellent leadership, the band performed its first ever Spring Concert and performed for the first time on Penn State's campus in the Esber Recital Hall.